Cable Car Options
A wide variety of options can be added to customize your Cable Car Innovations' unit. From foot steps, hand grips and benches to kitchens, canopies, dining areas, and access ramps and platforms.
note: Cable cars are only intended to be use on a flat even surface, and not intended to be moved on uneven surface or ground without a trailer.
STANDARD CAR FEATURES
Canvas Top
Rubber floor mat over plywood decking
Tempered Glass fixed Windows
Insulation
110V AC electrical
Watertanks
Fresh tanks underneath canopy for gravity feed pressue.
Waste tanks below floor
choice of stock color (white, black, blue, yellow green red)
Steps and hand grips
comes with wheels to roll on flat surfaces.

CUSTOM CAR OPTION
To fit smaller areas such as mall walkways a smaller version can be created. We can reduce the width from 8' to 6' and the car length can be composed of as many sections (closed and open) as needed - 3' per section. Contact us for more details. Structural Element Options (all cars)
Wheel Kit (for easy moving on flat surfaces)
Top - Canvas, Plywood or Metal
Flooring - oak, plywood, vinyl or ?
Windows - sealed, opening, vendor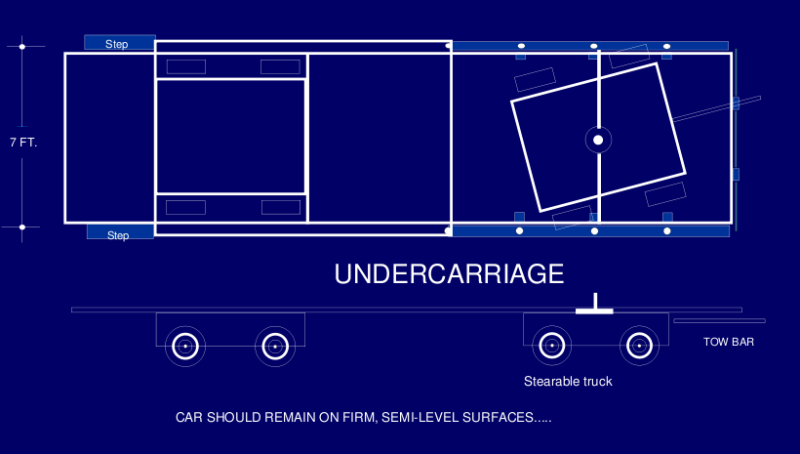 Click to see undercarriage plan.
INTERIOR OPTIONS
Doors - singing, sliding, dutch
Wood Benches
Dining Counter - with or without storage
Electrical, Plumbing, Ventilation
Bar Stools
Kitchen
Vendor Counter
Water Tanks
Lighting Fixtures
Cable Car Bell
Etched Glasswork Windows or Stained Glass
Sink
Galley for food preparation and service

all stainless steel
ventilation
Coffee/equipment (espresso, cappuccino, late)
Bar stools
Counters
Display cases
Lighting
Heat/AC
Cable Car Bell
custom details

brass, brushed nickel fixtures
custom painting
Signage

TRANSPORT OPTIONS
Trailer
Electric motor and steering for location positioning.

EXTERIOR OPTIONS
Custom Painting
Custom Signage
Lighting
Sideboards, Access Ramps and/or Platforms
Windows

Adjustable Windows
Etched Glasswork or Stained Glass
Doors (lockable)

Sliding Door
Swing, Right or Left
Swing In or Out
Dutch Doors
Pull-Down Security Cage
220/240V Electrical
Solar Energy and/or Heating Assist Unit
Water Heater / Hot Water plumbing
Propane / Natural Gas Fittings
Lighting
Canopy Options

Denim Fabric
Metal Sheeting
or other material
The options are only limited by your imagination.