Some Cable Car History
(Adapted from Wikipedia, see info below)
Cable Cars by their name, are trolleys are propelled by grabbing on to moving cables pulled by a cable engines in buildings at the end of the cable line instead of having the motor in the trolley itself.
One major motivation for the cable car concept was to replace the expensive and often dangerous horse drawn trolleys of the time. Horses required more maintenance as and frequent rest periods, on hilly areas like San Francisco, there were also many incidents of horses stumbling while with a car up or down a hill causing harrowing accidents.
The first cable-operated railway was the London and Blackwall Railway, which opened in east London, England, in 1840 which only lasted eight years and was closed in favor of steam locomotives. In 1868 New York tried cable cars as transportation and that only lasted a couple years (in part because the line was elevated and cumbersome to manage).
Later other cable car systems sprang up in Dunedin, New Zealand, Chicago, Glasgow and other cities, mainly as a means to replace the horse drawn trolleys. Today only San Francisco remains as the city with the original cable cars.
Several cities operate a modern version of the cable car system commonly referred to as a people mover.
San Francisco Cable Cars Today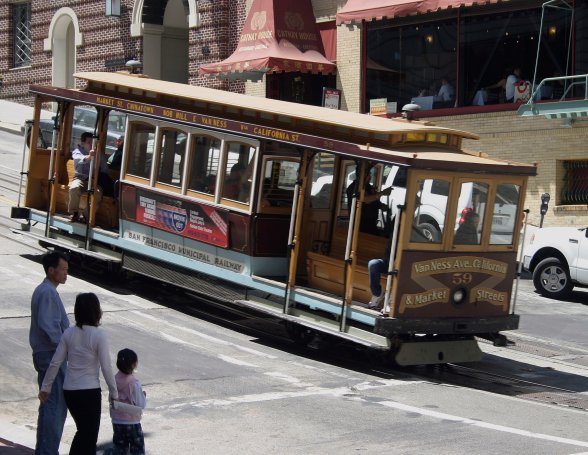 (The "California Street" Long Car, has two grips or fronts, designed to go in either direction without turning around)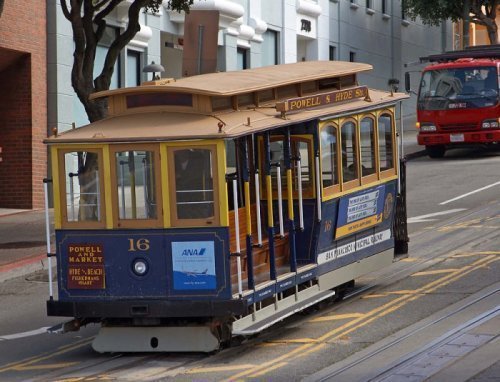 (The "Powell Street" Short Car, has only one grip, the car is rotated on a turn table in order to travel the opposite direction)
San Fransco's cars also have the distinction of being the only moving National Historic Landmarks in the United States, San Francisco's cable cars constitute the oldest and largest such system in permanent operation, and it is the only one to still operate in the traditional manner with manually operated cars running in street traffic.
---
More information about cable cars can be found in Wikipedia under Cable Car (railway). information and public domain photos for this article was adapted from Wikipedia.